Announcement
Tuesday, 16 September 2014
شكر وتقدير
يتقدم أتحاد المنظمات القبطية بأوروبا بأسمي معاني الشكر والتقدير لكلا من :
رئيس الجمهورية السيد/ عبد الفتاح السيسي الذي أصدر قرار بتشكيل لجنة تقصي الحقائق للخسائر التي لحقت بالأقباط وممتلكتهم وبالكنائس أنتقاما منهم لموقفهم الوطني عقب تلبيتهم لنداء الوطن والسيسي مثل كل المصريين الشرفاء.
السيد الدكتور/ فؤاد عبد المنعم رياض رئيس اللجنة الذي قام بتوجية دعوة لرئيس أتحاد المنظمات القبطية بأوروبا السيد / مدحت قلادة لحضور جلسة أستماع خاصة في مجلس الشوري بالقاهرة كمتحدث علي منصة الجلسة .
السيد نائب رئيس اللجنة السيدالمستشار / أسكندر غطاس لما قام بة من جهد كبير في الأعداد والتنظيم لأعمال اللجنة المنوط بها عمل شاق يشمل كل مصر
Read more...
Arabic
Tuesday, 16 September 2014
زيورخ فى 15/9/2014
قام اتحاد المنظمات القبطية فى اوربا بارسال 4 ملفات للجنة تقصى الجقائق بشان تداعيات 30 يونيو والاضرار التى
حدثت للاقباط وشملت الملفات بيان تفصيلى لكل الاضرار التى لحقت بالاقباط من هدم وحرق كنائس والاعتداء على بيوت
ومتاجر وصيدليات وسيارات الاقباط علاوة على سجل كامل بخطف الفتيات والقصر وسجل كامل بخطف الاقباط فى نجح
حمادى والمنيا مقابل الاتاوات وعددا من شهداء الاقباط الذين سقطوا غدرا بيد الجماعات الارهابية ..... وشملت رسالة
اتحاد المنظمات القبطية توصية بوجوب رعاية الاقباط المضارين من تلك الهجمات الارهابية وتعويضهم وبناء كنائسهم لان
الاقباط رعايا للدولة وعلى الدولة تعويضهم .
Read more...
Arabic
Sunday, 14 September 2014
القرضاوي: لا أقبل أن تحارب أمريكا داعش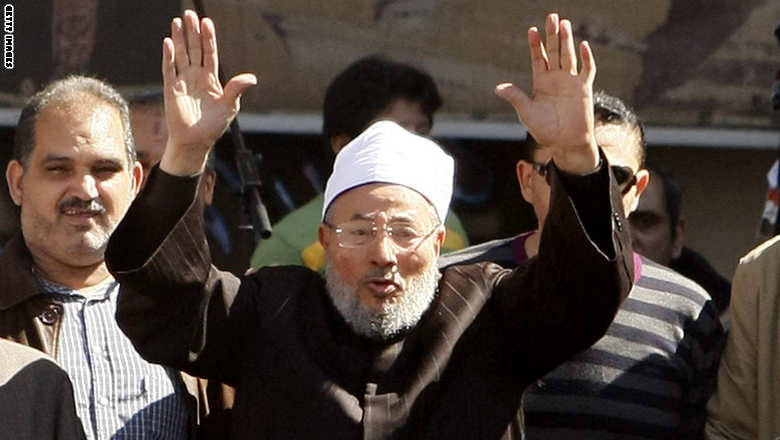 قال يوسف القرضاوي، الداعية الإسلامي الذي يعتبر الأب الروحي لجماعة الإخوان المسلمين، السبت، إنه لا يرضى أن تقاتل الولايات المتحدة الأمريكية تنظيم الدولة الإسلامية في العراق والشام أو خما يُعرف بـ"داعش."
وأوضح القرضاوي الذي يرأس الاتحاد العالمي لعلماء المسلمين على صفحته بموقع التواصل الاجتماعي، تويتر: "أنا أختلف مع داعش تماماً في الفكر والوسيلة لكني لا أقبل أبداً أن تكون من تحاربهم أمريكا."
وبرر القرضاوي ما سبق بأن أمريكا: "لا تحركها قيم الإسلام بل مصالحها وإن سفكت الدماء."
ويشار إلى أن موقع CNN بالعربية لا يمكنه التأكد بشكل مستقل من الأنباء والمعلومات التي يتم تناقلها عبر وسائل التواصل الاجتماعي
Read more...
Articles
Sunday, 14 September 2014
Pulling up roots of radical Islam
Eugene Robinson's recent "Our challenge with Islam" is the epitome of why we cannot seem to defeat what is the clearest threat to our national survival since the Cold War: the ideology of radical Islam. Robinson starts with his "pie in the sky" prescription to ending the barbarism to which we have all grown accustomed over the past 13 years, most recently in Iraq and Syria under ISIS.
According to Robinson, "Finding ways for fundamentalist Islam to express itself peacefully is a bigger, tougher and more important project (than defeating ISIS)." He goes on further to praise the potential of the Muslim Brotherhood, the head of the snake for the radicalism we see throughout the Middle East. He claims that "Mohamed Morsi had the chance to show the world that a government led by an Islamist party could be fair, tolerant and effective. The United States and its allies had the chance to help Morsi succeed. He failed, and so did we."
Read more...
Articles
Friday, 12 September 2014
A Call to the Free World: BAN POLITICAL ISLAM…
By Mounir Bishay

This article is not about Islam as a religion or most of the world's Muslims. It is about combating an extreme version of Islam that is defined as Political Islam that claims to be the only true representation of the religion of Islam.
Political Islam and its hateful tentacles are as dangerous for the welfare of American Muslims as it is for non-Muslim citizens. Most global Muslim populations reject Political Islam as they are more apt to be victimized by its irrational fanaticisms than are non-Muslims.
Read more...
Announcement
Wednesday, 10 September 2014
اقباط متحدون بريطانيا
تتقدم بخالص العزاء للأخ العزيز سامح سوريال فى وفاة أخيه
الاستاذ أكرم سوريال
نسأل الله ان يتغمد الفقيد برحمته ويلهم الاسرة الكريمة تعزيات السماء
Announcement
Tuesday, 09 September 2014
نتقدم لاخينا الغالى سامح سوريال
بخاص العزاء فى انتقال اخيه الاستاذ اكرم سوريال
ونطلب للراحل نياحا فى احضان القديسين وللاسرة تعزيات السماء
بيان وعزاء
تتقدم الهيئة القبطية الهولندية بخالص العزاء
للاستاذ سامح سوريال
عضو الهيئة القبطية الهولنديه والاسرة الكريمة فى رحيل شقيقه
الاستاذ اكرم سوريال
الذى عاش وعمل بهولندا من الفترة من سنة ١٩٨٨ حتى سنة١٩٩٨ وكان معرف
باجتهاده واخلاقه العالية
وتعلن ان الاستاذ سامح سوريال سوف يتلقى العزاء عقب
قداس يوم الاحد الموافق ١٤ سبتمبر الجارى
بكنيسة الملاك ميخائيل والانبا انطونيوس
بايندهوفين
الهيئة القبطية الهولندية
Radical Islam Watch
Monday, 08 September 2014
Isis: British women led by Aqsa Mahmood 'running sharia police unit for Islamic State in Syria'
The al-Khansaa brigade reportedly upholds the strict religious rules implemented by the Islamic State (Isis) in the city of Raqqa
Natasha Culzac
As many as 60 British women have joined an all-female sharia police unit for the Islamic State (Isis), reprimanding those who fall foul of the jihad's strict rules.
The al-Khansaa brigade is believed to be operating in the Syrian city of Raqqa, which is controlled by Isis militants and works as their Syrian headquarters.
Read more...
Radical Islam Watch
Sunday, 07 September 2014
Woman beheaded: 'Muslim convert' known as Fat Nick suspected of slaughtering grandmother pictured for first time
Read more...
Radical Islam Watch
Saturday, 06 September 2014
Exclusive: Islamic State guides Egyptian militants, expanding its influence
CAIRO (Reuters) - Islamic State, fighting to redraw the map of the Middle East, has been coaching Egypt's most dangerous militant group, complicating efforts to stabilize the biggest Arab nation.
Confirmation that Islamic Sate, currently the most successful of the region's jihadi groups, is extending its influence to Egypt will sound alarm bells in Cairo, where the authorities are already facing a security challenge from home-grown militants.
Read more...
Articles
Saturday, 06 September 2014
Radical Islam and its Invisible Victims
Bishop MICHAEL NAZIR-ALI
The black flag: Middle-Eastern minorities are facing genocide (illustration by Michael Daley)
How we read the news is important. As far as the Middle East is concerned, the news is often slanted towards Western interests, whether commercial, military or security-related. It is not, of course, wrong to report and to interpret events in this way but, in doing so, we can miss something crucial that is going on in a nation or a region. It is even possible to say that what is missed could become crucial to international security or trade. That is not my primary concern here which is, rather, to ask what the events mean for the people living in these parts of the world, especially the minorities and the disadvantaged. That is to say, the "invisible" people.

Read more...
Latest News
Thursday, 04 September 2014
Minister Kenney welcomes Coptic Pope Tawadros II to Canada
Pope Tawadros II begins month-long visit
September 3, 2014—Toronto, ON—Jason Kenney, Minister for Multiculturalism, today greeted the leader of the ancient Coptic Orthodox Church upon his arrival in Toronto, on behalf of Prime Minister Stephen Harper and the Government of Canada.
Pope Tawadros II, who became the 118th leader of the Coptic Orthodox Church on November 19, 2012, arrived in Toronto this evening to officially begin his month-long Canadian visit. His first trip to Canada will include the consecration of the first Coptic cathedral in North America, Markham's St. Mark's Coptic Orthodox Church, visits to other parishes across Canada, meetings with religious leaders, and the delivery of a lecture at Queen's University in Kingston, Ontario.
Andrew Bennett, Canada's Ambassador for Religious Freedom, joined Minister Kenney in Toronto to greet Pope Tawadros.
Read more...