EGYPT: Fatal Attacks Against Christians
Source: World Watch Monitor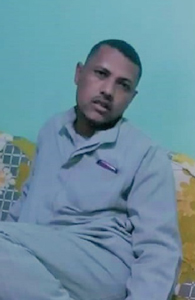 Ishak Ibrahim
Photo courtesy of Ishak's family
via World Watch Monitor
The murder of another Christian in Egypt, this time in the centre of the capital, makes this the fifth tragic death over a 13-day period. Ishak Ibrahim Fayez Younan, 37, was found dead by his brother on January 16th at the victim's temporary residence in the old part of Cairo. He leaves behind a grieving wife and two children, ages 10 and 12.
Ishak's death bears similarities with the other slain Christians over the two-week period. Each had their throat cut, while money and other valuables were left behind. (Although police did report that robbery was the motive behind at least one of the murders.) Ishak was murdered in the flat he rented while working at a factory that supplies soft drinks to supermarkets. His wife and two children were at the family home in El-Sheikh Zaied, a village in Upper Egypt, at the time of the attack.
"The murderer didn't steal his money or anything from the flat, which indicates that the motive was not theft," states Ishak's brother Magdy, who immediately notified the police. Officials arrived promptly at the crime scene to conduct their investigation and take fingerprints.
"My brother had no enemies; he was a very simple man and peaceful," explains Magdy. "He left his wife and children to work in Cairo to support them. His family will now face difficulties as he was the primary breadwinner." For more information on persecution in Egypt, please visit our Egypt Country Report.
Ask the Lord to greatly comfort, encourage and strengthen each grieving family member, friend and fellow believer associated with those who were slain in Egypt for their faith during recent weeks. May these surviving loved ones not lose heart (2 Corinthians 4:16), but rather draw closer to Him who promises to be especially near to the brokenhearted during their time of need. Pray that they will be greatly reassured by the many promises contained in God's Word -- turning their mourning into inexpressible joy over the anticipation of being reunited with their loved ones in eternity (where they will never ever be separated again) and, most glorious of all, finally meeting their blessed Saviour face to face!