EGYPT: Mobs Force Church Closures
Source: World Watch Monitor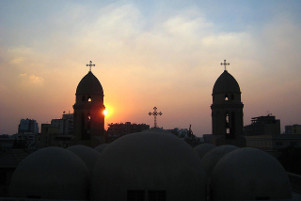 For the Christian minority in Egypt, regulations and bureaucracy have caused issues for years. Across Egypt, over 3,500 churches are presently in the process of being licensed; some have waited for over 20 years. In January, the government announced that Christians will be allowed to continue meeting in unlicensed churches pending the process. But in the Luxor governorate region alone, a Coptic diocese faced the forced closure of its eighth church due to pressure from mobs. All these churches were in the process of being officially approved by the government.
In the village of El-Zeniqa, a Coptic church was forced to close its doors on August 22nd, after a large group of young Muslim men gathered to shout threats against the Christians. The mob tried to break down the front door of the church but the members had locked it from the inside and called the police. The officers were able to disperse the crowd but then sealed the building, posting security forces outside. The protests began after rumours spread that the government was about to officially recognize the church.
In the Minya governorate, similar protests have been happening against churches. In the village of Ezbet Sultan Pasha, the church was first attacked on July 13th after villagers heard of its application for legalization. Crowds returned on August 24th, pelting the church building with rocks and damaging CCTV cameras. They then moved to a house where Christians had gathered to pray, before causing damage to some of the other homes in the area. During the attack, members of the mob shouted threats against those who were gathered, proclaiming that a church would never be allowed in the village.
Intercede for peace within these villages and in the hearts of the villagers. Pray that the targeted Christians will demonstrate the love and grace of God in the midst of opposition. May those opposing them be convicted of their sin and, as a result, turn to Christ for forgiveness. Also pray that the Egyptian authorities will take measures to expedite the church approval process, while providing these believers with the protection they need in the interim.