Coptic Christian attack: Funerals in Egypt for seven murdered pilgrims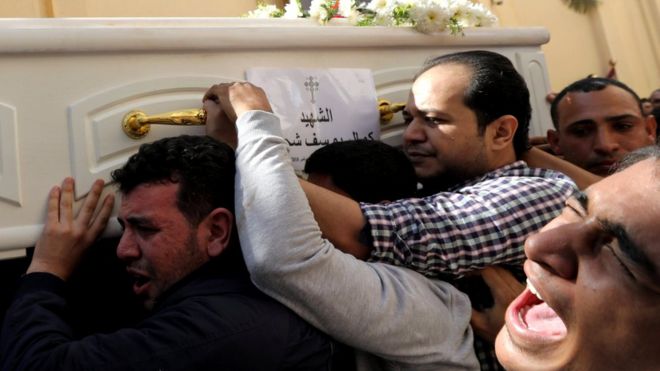 Image copyright
REUTERS
Image caption
Hundreds of people gathered in Minya for the funerals of six Coptic Christians killed by millitants
Coptic Christians have gathered in Egypt to take part in the funerals of a group of pilgrims killed by gunmen as they headed to a monastery on Friday.
Mourners expressed grief and anger as they left Prince Tadros church in the city of Minya, where the bodies of six victims lay in white coffins.
A seventh had been buried on Friday.
The Islamic State (IS) group earlier said it was behind the attack, the latest in a series by extremists on Egypt's Coptic Christian minority.
Egypt's Copts, who make up most of the Muslim-majority country's Christian minority, have in the past accused the authorities of making only token gestures to protect them from such attacks - including one at the same spot which left 28 dead in May 2017.
Friday's attack on two buses near the Monastery of St Samuel the Confessor in Minya also left at least seven others wounded - including children, according to reports.
On Saturday, people displayed their anger and frustration: according to news agency AFP, the coffins were carried away from the church accompanied by cries of "with our souls, with our blood, we will defend the cross!", while security members - sent to guard the congregation - were booed.
"What do these terrorists want? Do they want us to hate Muslims?" said Michel, 23, who lost a neighbour in the attack.
"Should I carry a gun with me when I go to pray or when I'm at home? Because I could die if I go to church," he asked.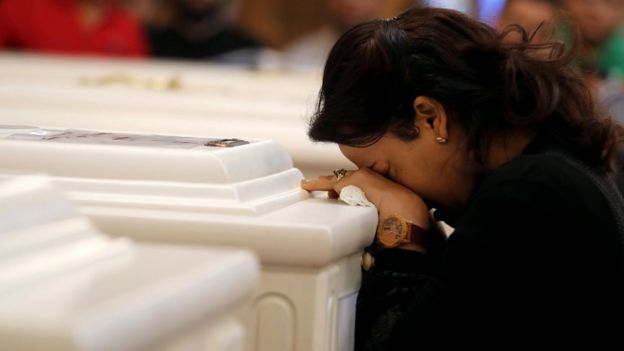 Image copyright
REUTERS
Image caption
The group were travelling in buses near a local monastery when they were attacked
Image copyright
REUTERS
Image caption
Some feel the government has not done enough to protect their community
Others, however, struck a more conciliatory tone.
"We would like to tell them [the attackers] that we still love them despite what happened. We have a question though - why are you doing this to us? We do not commit malice towards anyone," Rad Noseer Mitri, priest of Mar Girgis Church, told mourners, according to news agency Reuters.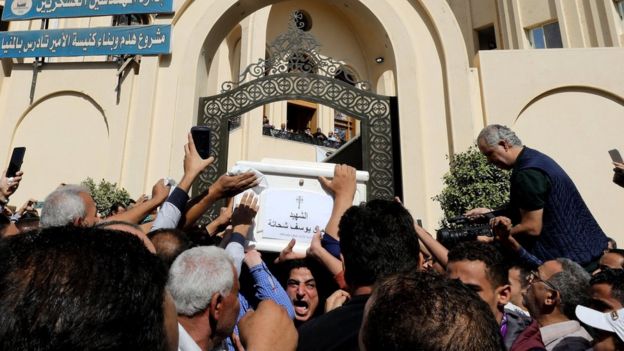 "We serve our church and nation in complete honesty. We play no role in terrorism or hate. We only play a role in serving our church and country like any other people all around the world."
Bishop Makarios of Minya - who thanked security staff - promised the congregation they would "not forget the promises of officials, including the president of the republic, that the criminals will be punished".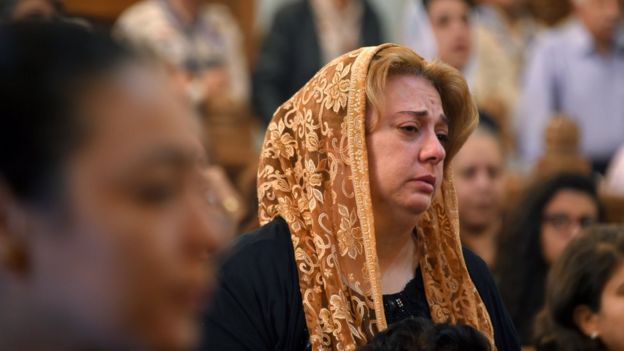 Image copyright
AFP
Image caption
Egypt's Coptic Christians have come
under repeated attack in recent years
Image copyright
AFP
Image caption
A seventh victim was buried in an Anglican ceremony on Friday night
"There is a mix of sadness and pain; sadness as these painful events are being repeated and pain because Copts are part of this homeland and part of its fabric," Bishop Makarios added.
President Abdel Fattah al-Sisi held a minute's silence for the victims, and called Coptic Pope Tawadros II to offer his condolences.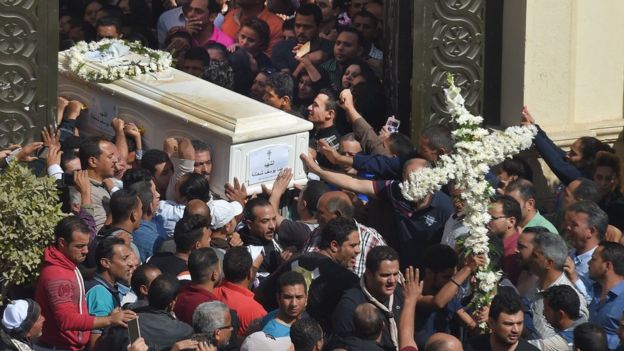 Who are the Coptic Christians?
The Coptic Orthodox Church is the main Christian Church in Egypt. While most Copts live there, the church has about a million members outside the country.
Copts believe that their faith dates back to about AD50, when the Apostle Mark is said to have visited Egypt. The head of the church is called the Pope, and is considered to be the successor of Saint Mark.
The Coptic Church separated from other Christian denominations at the Council of Chalcedon in 451, in a dispute over the human and divine nature of Jesus Christ.
The current Coptic Pope, Tawadros II, observed his own social media ban last month by closing his official Facebook page.