Egyptian Coptic Youth Protect Cathedral During Pope's Sermon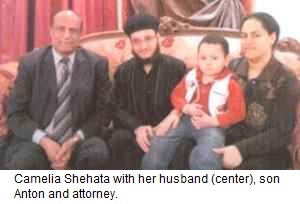 (AINA) -- Egyptian police and armed forces were heavily deployed around St, Mark's Cathedral in Cairo yesterday as Coptic Pope Shenouda III delivered his weekly sermon to nearly 10,000 church members. The sermon was also attended by the media and Muslim journalists to show their opposition to the Salafis and the actions against the church. A large number of veiled Muslim women were also in attendance.
Hundreds of Coptic Christians also guarded the Cathedral. The Maspero Coptic Youth Federation announced they will guard the Cathedral until Friday because the Salafis warned they will stage this Friday another demonstration in front of it, to "free" the Christian converts to Islam whom the church detains.
Islamists websites had warned Copts not to attend today's sermon and had called for retaliatory action against the Cathedral during the sermon in response to the church's decision not to release Camellia Shehata, who Muslims believe has converted to Islam and is being held against her will.
The Pope's sermon was titled "Forgive" and stressed the virtue of being good to the offenders. The Pope said every human being sins, even the saints, and "forgive the people so that you are forgiven."
Thousands of Salafists staged a march to the cathedral last Friday to demand the appearance of Camellia Shehata and Wafaa Constantine, both wives of clergy, whom they claim converted to Islam. The church has denied they converted to Islam (AINA 4-30-2011). The prosecutor requested of the appearance of Camellia to investigate the claims that she was allegedly kidnapped and detained by the Church. She is expected to appear before them in the very near future.
"Camelia said she was 100% Christian, is proud of her religion, has not converted to Islam and never went to AlAzhar for conversion," said Dr. Naguib Gobraeel, her attorney. "She confirmed that she had had a misunderstanding with her husband, Father Tedaos, and left their home and stayed a few days with some relations, until friends and relatives intervened and reconciled them." Dr. Naguib Gobraeel said she now lives a quiet and happy life with her husband and her two and half year old son Anton in Cairo.
Gobraeel said he advised Camellia to appear in the media to refute the claims of her conversion to Islam and that she is being held by the church, but she refused. He added that Camellia told him that her biggest wish is to return to the simple life, like any normal Egyptian woman, away from the media and the dispute between Copts and Muslims regarding her.
By Mary Abdelmassih