Egypt told to give military leaders 'safe exit' by western governments
Pressure applied to grant immunity, Muslim Brotherhood claims, but party insists generals will face trial over alleged killings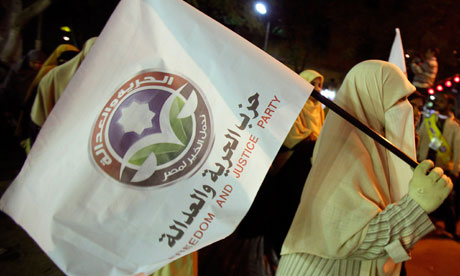 Western governments have been encouraging Egypt's nascent political powers to consider offering the military generals currently running the country immunity against prosecution, according to the Muslim Brotherhood.
The Supreme Council of the Armed Forces (Scaf) has been in control of the country since the toppling of former president Hosni Mubarak in February 2011, with the junta's rule marked by continued violent confrontations between revolutionaries and security forces, including allegations that they have ordered the shooting of unarmed protesters.
Senior members of the Muslim Brotherhood's Freedom and Justice party – Egypt's largest political movement, which holds almost half the seats in the country's new parliament – have told the Guardian that the international community has been covertly lobbying them to strike a deal with Scaf that would provide a "safe exit" for the ruling generals in exchange for a smooth transition to democracy.
"Foreign embassies have been advocating this as a solution," claimed Gehad el-Haddad, one of the brotherhood's senior advisers. "They're not just asking us to consider it – they're saying it might be the only way."
Despite early promises of a swift transition to civilian government, Scaf and its leader, Field Marshal Mohamed Hussein Tantawi, have dragged their feet on democratic reform and instead launched several bloody crackdowns against pro-change demonstrators, leaving more than a hundred dead and thousands injured.
A series of international and domestic human rights groups have accused military commanders of sanctioning the use of live ammunition against unarmed protesters, and have called for those responsible to be brought to justice once the generals return to their barracks.El-Haddad said: "[The generals] seem to feel threatened by the possibility of prosecution once they're out of office." He added that the brotherhood did not intend to offer Scaf any immunity deal unless there was popular support for such a move. "There has been loss of human life, there are families who have lost relatives and loved ones. And there's a law protecting human life that has to be enacted; if anyone were to be found guilty, through investigations, they would have to go through the necessary legal process. This is the right course and we don't intend to deviate from that course."
The revelation is likely to cause embarrassment to western governments which, after decades of strong support for the Mubarak regime and other authoritarian Arab governments, have been scrambling to catch up with popular demands for justice expressed by the dramatic uprisings that have swept the region over the past fifteen months.
The British Foreign Office admitted that discussions on the subject have been held with the Muslim Brotherhood, but denied that any advocacy took place. "As part of wider discussions about the political situation in Egypt, the UK has asked the Muslim Brotherhood about its position on immunity for Scaf," said a spokesperson. "We have discussed experiences from other countries and the importance of dealing constructively with the past, but we have never lobbied for immunity for Scaf. That is rightly an internal matter for Egyptians to decide on."
The EU said that it was not aware of member states being involved in talks over immunity, adding: "The EU position is that anyone charged for an alleged crime should be brought to justice." The US embassy in Cairo did not return the Guardian's request for a comment.
Egyptian revolutionaries have put accountability for crimes committed by those in power at the heart of their demands, and activists were outraged at the suggestion that western officials might be contemplating an offer of protection to military commanders who could potentially face multiple charges of unlawful killing when they are finally removed from office.
The Egyptian Initiative for Personal Rights, an NGO, has documented many instances of state violence against civilians under junta rule. Its head, Hossam Bahgat, said: "If indeed western nations have been advocating this then it's an indication that they have learned nothing from the history of transitions or the recent developments in international criminal law that make it abundantly clear that no peace is possible without justice. I am astonished that we are still having this old and tired debate about accountability versus stability; it also shows that these western governments have learned nothing from the mistakes they committed under the Mubarak regime where they were willing to look the other way and just pay lip service to human rights and accountability for the sake of what they believed was stability.
"There is no doubt in my mind or my colleague's minds that, sooner or later, the top command of the military council will answer serious charges in court," he added, citing the massacre of 28 civilians at a Christian protest march last October and the practice of army doctors subjecting female protesters to "virginity tests" as examples of crimes that the country's military leaders may be responsible for.
"What we had before was not just ruthless brutality against peaceful protesters and the killing of scores of them with clear complicity and acquiescence from military officers, but also consequent efforts to shield the perpetrators of these killings from accountability. They want to enjoy the kind of impunity that is no different to the impunity enjoyed by Mubarak's security apparatus for three decades, but it will not be allowed to happen. They will answer for their violations and also for their efforts to obstruct justice."