Anti-terrorism laws more frightening than racial abuse, says Muslim group
The Lebanese Muslim Association argues tighter security laws are aimed specifically at the Muslim community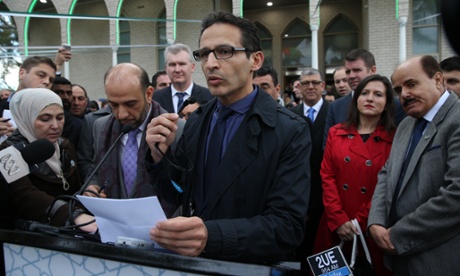 The Abbott government's proposed changes to anti-terrorism laws are "more destructive" than the shelved amendments to race laws, the Lebanese Muslim Association has argued.

Tony Abbott attempted to appeal to Islamic communities on Tuesday by dumping changes to the Racial Discrimination Act in order to preserve "national unity" at a time when the government was seeking to toughen security laws.
But the prime minister's gesture failed to satisfy the Lebanese Muslim Association, which said the anti-terrorism amendments seemed to "target the Muslim community" and "give authorities unprecedented and intrusive powers".
"If these new anti-terror changes are in lieu of 18C [the amendments to the Racial Discrimination Act], we would rather continue the debate of 18C as a nation than have the Australian Muslim community endure such discriminatory measures," the association said.
Its president, Samier Dandan, added: "These laws will be more destructive than the proposed legislation which has just been discarded. I urge the government to abandon these divisive measures and restore public confidence in our ostensible rights as citizens in a democratic nation."
The association said Muslims living in the west treasured their safety, security and freedoms, but "divisive rhetoric and fearmongering often used by political representatives and the media is only feeding the frenzy of an us-versus-them mentality".
The government plans to broaden the listing criteria for terrorist organisations, lower the threshold for arrest without warrant for terrorism offences, extend police and intelligence agencies' powers to stop, question and detain suspects, and make it easier for the Australian federal police to seek control orders on people returning from fighting abroad.
The foreign affairs minister, Julie Bishop, would be able to designate an area where terrorist organisations were conducting hostile activities, such as parts of Iraq and Syria, and it would become an offence to travel to those areas "unless there is a legitimate purpose".
A number of Islamic community leaders have raised concerns about this provision, including practical questions over how people could prove their innocence and suggesting innocent people may be targeted.
Abbott says the stronger powers are needed to keep the community safe because "there are up to 150 Australians who've gone to Syria and Iraq to engage in terrorist activities" and they pose a serious risk if they become return to Australia having been radicalised.
Bret Walker SC, whose term as Australia's independent national security legislation monitor expired earlier this year, said there was "a lot of reason to be concerned" about the threat posed by Australians fighting in Syria and Iraq, but there were "big questions" about how the government's laws would operate.
"I'm very concerned that we will end up or could end up with something being an offence constituted by simply having gone to a place where terrorism is in train, somewhere as large as Syria or Iraq, both big territories, with many innocent people doing many innocent things and many innocent people doing many wonderful things, humanitarian assistance," Walker told the ABC's Lateline program.
"An offence of going to such a place, because you have failed to satisfy someone, presumably a judge, on presumably the balance of probabilities, that you were there for what I'll call a good purpose or at least not a bad purpose. If that's an offence, it has to be made quite clear it won't mean that they've shown that you've done anything wrong at all except go to that place.
"How much imprisonment, if any, should a person suffer for going to a place of that kind? So I think there are some big questions about how you frame such a law and there are certainly some large questions as to whether they really would be very useful at all."
The government is also planning to push ahead with a scheme to make it mandatory for telecommunications companies and internet service providers to retain consumers' metadata for two years.
Walker said he had no problem with the collection and storage of metadata but the government should ensure access was only available with a warrant.
On Tuesday Abbott said he was dropping the Racial Discrimination Act changes because he was "determined to engage in ever closer consultation with communities including the Australian Muslim community" over the security laws.
"When it comes to counter-terrorism everyone needs to be part of 'Team Australia' and I have to say that the government's proposals to change 18C of the Racial Discrimination Act have become a complication in that respect," the prime minister said. "I don't want to do anything that puts our national unity at risk at this time and so those proposals are now off the table."