Boris Johnson Calls For 'Jihadi John', James Foley's Murderer, To Be Killed
Boris Johnson
has said he wants the reportedly British jihadist who beheaded American journalist James Foley to be killed in a bomb attack.
The Mayor of London said Britain must take on Islamic State (IS) and "try to close it down now", warning that doing nothing would mean a "tide of terror will eventually lap at our own front door".
Mr Johnson, who has overall responsibility for the Metropolitan Police and is planning to return to parliament next year, called for new laws that would mean anyone visiting Iraq and Syria would be automatically presumed to be terrorists unless they had notified the authorities in advance.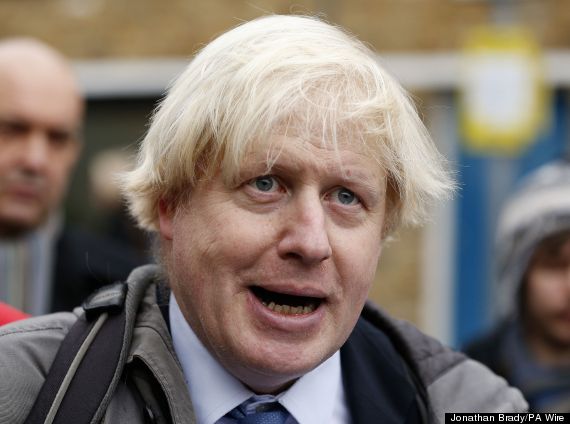 Boris Johnson said James Foley's murderer was a 'prat' who should be killed
British intelligence agencies are understood to be close to identifying the IS (formerly ISIS) killer of Foley who has been dubbed "jihadi John".
A rapper from west London is a key suspect linked with the murder.
Abdel-Majed Abdel Bary left his home in Maida Vale to fight with IS in Syria, and has previously posted a picture of himself apparently holding aloft the severed head of an opponent.
Writing in his Daily Telegraph column, Mr Johnson said: "Young men such as this killer are famously told that if they die in 'battle' they will be welcomed in heaven by the sexual ministrations of 72 virgins.
"Many of them believe it - even though scholars have suggested that the reference to 'black-eyed virgins' is in fact a promise of 72 raisins.
"I suspect most of us don't give a monkey's what happens to this prat in heaven, whether he meets virgins or raisins - we just want someone to come along with a bunker buster and effect an introduction as fast as possible."
Former shadow home secretary David Davis has called for IS fighters to lose their British citizenship and Lord Carey, former Archbishop of Canterbury, said they must face being stripped of their passports.
His voice has been scruntinised by security services and compared to the South London voice on the video of the killing of James Foley
JAMES FOLEY:
Mr Johnson said those who "continue to give allegiance to a terrorist state" should lose their British status citizenship and called for swift changes to the law so there is a "rebuttable presumption" that those visiting war areas without notifying the authorities have done so for a terrorist purpose.
The mayor said that while Britain's recent military interventions have left the nation reluctant to wade into overseas conflicts "doing nothing is surely the worst of all" and warned that the IS "wackos" must be tackled."What is the point of having a defence budget, if we don't at least try to prevent the establishment of a terrorist 'caliphate' that is profoundly hostile to civilised values?"
Britain's ambassador to the United States Sir Peter Westmacott confirmed that intelligence agencies were on the brink of identifying the IS terrorist.
He told CNN's State of the Union programme: "I do know from my colleagues at home that we are close.
"We're putting a lot into it. And there are some very sophisticated technologies, voice identification and so on, which people can use to check who these people are. But, of course, the problem goes beyond one horrendous criminal, if you like."
Foreign Office and Home Office officials refused to comment on the claims. "We do not comment on security matters," a Foreign Office spokesman said.
Of all the known Brits who have travelled to fight in Syria, Bary's name has been most closely linked with the group, reportedly known as 'The Beatles' who killed Foley.
Nine things we know about Abdel-Majed Abdel Bary
1
He was a 24-year-old aspiring rapper known as L Jinny whose music was played on BBC Radio 1
But he has tried to erase all traces of that life

3

The family lived in a £1m home in Maida Vale

4

He posed with a severed head on Twitter, with the caption "Chillin' with my other homie, or what's left of him"

5

He was once abducted and robbed by opposition fighters

6

He is the son of a Islamist militant who is currently awaiting trial

Matthew Fearn/PA Archive

7

He has fought under the name Abu Kalashnikov and Soldier of Allah

8

The family was home-schooled because his mother was worried about bad influences

ASSOCIATED PRESS

9

He was a supporter of Anonymous

ASSOCIATED PRESS