Australia raids Islamic center, arrests two for militant links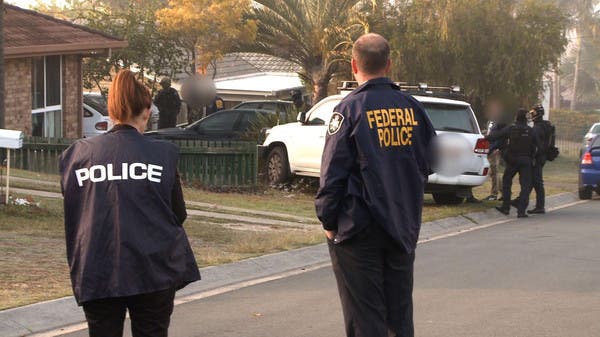 Agence France-Presse, Brisbane, Australia


Wednesday, 10 September 2014
Australian police Wednesday raided an Islamic center and seized two men for alleged involvement in recruiting and sending militants to Syria.

The raids involving 180 police came a day after the country's spy chief said he was "actively considering" raising the terror threat level over Australians' involvement in overseas militant groups.

Australian Federal Police said the men, aged 21 and 31, were arrested for terrorism offences, alleging they were "involved in recruiting, facilitating and funding people to travel to Syria to engage in hostile activities".

The arrests, after a 12-month investigation, came during several raids in Brisbane and Logan, a city just south of the Queensland capital, where they focused on the iQraa Islamic Centre and bookstore.

A gun and a crossbow were found during the raids, said Assistant Commissioner Neil Gaughan.

The younger man was charged with recruiting people to go to Syria to fight for al-Qaeda-backed militant group al-Nusra Front, and with preparing to travel to the Middle Eastern country "with the intention of engaging in hostile activity."

Police have yet to charge the 31-year-old.



Authorities did not name either of them. But Gaughan confirmed the older man was the brother of Abu Asma al Australi, who was suspected of being the first Australian suicide bomber to die in Syria.

Gaughan said there was no information at this stage that the men were planning a terrorist attack in the country.

"Australians travelling offshore to engage in, or support terrorist activities or conflict present a significant threat to Australia's national security -- both in foreign countries and upon their return to Australia," he added.

Queensland police Assistant Commissioner Gayle Hogan said there was "nothing in this investigation that points to any attack or any problems in relation to the G20."

Brisbane is set to host the G20 leaders' summit in November.

On Tuesday spy chief David Irvine said he was "actively considering" increasing the country's terror threat level to high from medium, where it has been since 2003.

Irvine, the head of the Australian Security Intelligence Organization, told ABC television there were more than 20 people who had returned to Australia after fighting in Iraq and Syria.

The higher threat level, if raised, would be "because of the influence of Syria and Iraq on young Australians both in terms of going to those places to fight, but also in terms of what they are doing here in Australia with a potential intent to attack," Irvine said.

There was a national outcry in August after a picture of a seven-year-old Australian boy holding a severed head in Syria, which ran on newspaper front pages, was posted on the Twitter account of the child's father Khaled Sharrouf.

The Australian father had fled to Syria last year and is now an Islamic State in Iraq and Syria (ISIS) fighter.

The country has stepped up efforts to stop youngsters from being radicalized and joining extremist groups, with Prime Minister Tony Abbott announcing $58 million package in August to support community groups and security agencies.

The government believes up to 60 Australians were fighting alongside ISIS militants, while another 100 were actively working to support the movement at home.

ISIS and al-Nusra are rooted in al-Qaeda in Iraq but the two groups have been openly at war with each other in Syria since early this year.

Both groups have been listed as terrorist organizations in Australia