US delivers 10 helicopters to Egypt in sign of improving relations
Apache helicopters arrived this week to support counter-terrorism
Delivery had been on hold since coup against elected president last year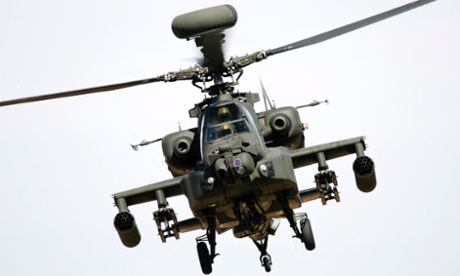 The Pentagon had announced in September that it would be sending Apache helicopters to Egypt. Photograph: HO/Reuters
Egypt received 10 Apache helicopters from the US in the past week, security sources said on Saturday, in a sign of easing tensions between the longtime allies confronting Islamist extremism across north Africa and the Middle East.
The US announced in April that it had decided to lift its hold on the delivery of the attack helicopters. The hold was imposed last year, after the military toppled elected president Mohamed Morsi and cracked down hard on his Muslim Brotherhood supporters.
The Pentagon said in September that the US would deliver the helicopters, built by Boeing, to support Cairo's counter-terrorism efforts.
Egypt is fighting an Islamist insurgency that mostly targets security personnel and is based mainly in the lawless Sinai peninsula bordering Israel and the Gaza Strip. The most powerful militant group there, Ansar Bayt al-Maqdis, swore allegiance last month to Islamic State, the al-Qaida offshoot that swept across northern Iraq and Syria earlier this year and now faces US-led air strikes.
Egypt has created a 1km buffer zone along the border with Gaza by clearing houses and trees and destroying subterranean tunnels it says militants use to smuggle arms from Islamist-controlled Gaza.
President Abdel Fattah al-Sisi, who as army chief ousted Morsi, has also expressed concern over militants who are thriving in the chaos of post-Gaddafi Libya and are opposed to the Cairo government.
Critics say Egypt's crackdown on Islamists is trampling on human rights and expanding to include peaceful protesters as well as secular and liberal activists. A senior Egyptian interior ministry official said on Saturday that nearly 10,000 suspected militants, rioters and others wanted in violent attacks had been detained over the past 12 months.
In another sign of improving relations between the two countries, Stephen Beecroft, the new US ambassador to Egypt, arrived in Cairo on Thursday. The previous ambassador left the post more than a year ago, following Morsi's overthrow.