Isis 'tentacles' spreading in Muslim community, warns Rochdale imam
Locals urged to resist lure of Islamic State as local councillor's son named among nine locals arrested on Syrian border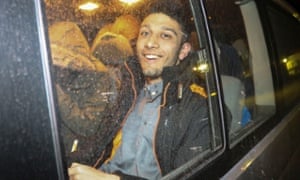 Waheed Ahmed, the son of Rochdale councillor Shakil Ahmed, leaves hospital after a medical checkup and fingerprinting in Hatay province, Turkey. Photograph: Anadolu Agency
Helen Pidd

,
northern editor, and
Caroline Davies
An imam in Rochdale has warned that the "tentacles of Isis" are spreading far and fast through the Muslim community as it emerged that a local Labour councillor's son was among nine people from the town arrested on the Turkish-Syrian border.
It is not yet clear why Manchester University politics student Waheed Ahmed, the 21-year-old son of Rochdale councillor Shakil Ahmed, had travelled to Hatay province in Turkey. He was detained by Turkish authorities on Wednesday as part of a group believed to include his aunt, Zadia Bi, two of her sons, one of the son's wives and children aged one, three, eight and 11.
But Irfan Chishti, an imam from the Rochdale Council of Mosques, who has worked for the government's anti-radicalisation programme Prevent, said he was very worried about young people in Rochdale being radicalised by Islamist hardliners.
Before his Friday sermon at the Chashtiah mosque on Milkstone Road in Rochdale, Chishti said he would warn his congregation against radicalisation and urge them to resist the lure of Islamic State. "No one is immune to it. The tentacles of Isis really are spreading so quickly, not just into homes but into palms, via the internet on phones. We have got smartphones that are making us dumb. Isis is not in any way Islamic and we need to push back harder to say it's not. We have to be pushing this message shrewdly to counter Isis's narrative," he said.
At the Bilal mosque in Rochdale, Mohammed Mushtaq, a mosque committee member, delivered a special message to parents and young people, according to local Labour councillor Sultan Ali, who was cabinet member for community cohesion until last year.
"They got the message about people being groomed and influenced by Isis, that it's not the done thing, that we want to live in a cohesive society, that we should keep an eye on another, support one another, be alert," said Ali.
Waheed, who is due to finish his degree in politics and sociology this year, had recently expressed worries about getting a job on graduation, according to one person who had spoken to Councillor Ahmed since news broke of his son's detainment.
On Friday, officers from Greater Manchester police were searching the family home Waheed shared with his brother and parents. His father represents Kingsway ward on the council, alongside Karen Danczuk, wife of the town's Labour MP, Simon Danczuk.
Greater Manchester police confirmed they were searching four addresses: two in Rochdale and two in nearby Heywood.
"There remains no update in respect of the nine people or any timescale for their possible return to the UK. No arrests have been made as part of this investigation and we will not be offering any information or guidance as to the identities of the nine," said a force spokesman.
Assistant Chief Constable Ian Wiggett said: "What is obviously concerning is why a family were seemingly attempting to take very young and vulnerable children into a war zone. Such a volatile and dangerous environment is no place for them whatsoever."
It remains unclear what Waheed and his travelling companions were doing on the Turkish-Syrian border. In an interview with the Daily Mail on Thursday night, his father suggested his son had perhaps gone on holiday but strayed too near to the border. He had earlier put out a statement saying he had thought Waheed was on a work experience placement in Birmingham.
The holiday explanation was believed by very few people the Guardian spoke to in Rochdale, though many believed the group may have been heading to Syria to carry out humanitarian work.
In Rochdale, Bassat Yousaf said he had known Waheedsince childhood and was shocked at his arrest in Turkey. Yousaf, 21, said his friend had been collecting money for victims of the Syria conflict before he learned he had gone to Turkey. Describing Waheed as a nice, quiet guy, he said: "We used to talk about Palestine and Syria and he sometimes collected charity money. I used to see him collecting a lot of charity money for people whose homes have been blown up.
"He was out collecting charity for people in Syria, knowing the person for that long – that's the only thing I can think of. It was money for Syria. They made a lot of badges and shirts, people wearing Palestinian, Syria shirts."
Outside a mosque on Crawford Street, converted from a pub with the help of Councillor Ahmed, a group of youths said they went to Springhill high school in Rochdale with Waheed. They insisted he was a "good lad" who always encouraged them to go to the mosque and pray.
They warned that the media presence was adding to an already tense atmosphere in the town. "There's a lot of racial tension here already," said one 21-year-old, who said he was a friend of Waheed's brother Moin, but did not want to be named. "These things add up. I think it's going to explode at some point and people will get hurt."
Reporters were spat at and had their cameras shoved by some worshippers after Friday prayers at the Neeli mosque in Hare Street, Rochdale, where it is believed Waheed sometimes prayed.
After prayers, one man told journalists: "People are shamed about what's happening. Rochdale is brought into the light again for negative reasons. Muslims are being stigmatised."
Ali, the local councillor, said he was confident Rochdale would not see the sort of race riots which erupted in neighbouring Oldham in 2001. "Things like this don't help with community cohesion but I think Rochdale is big enough to come through this.
"Rochdale has had a lot to put up with in recent times. Yes, feelings are running high. Had it been another town – we had the riots in Oldham; we worked hard to stop it spreading to Rochdale. I wouldn't wish it on anybody because it's just not nice for humanity but I think Rochdale is very, very tolerant. That's why we've not had that explosion."
Rochdale has links with Syria. Alan Henning, the Salford cab driver who was beheaded by Isis last autumn, was taken hostage while driving an ambulance for Rochdale Aid 4 Syria, which raised money on behalf of Al-Fatiha Global, a British-based organisation which provides humanitarian aid to those caught up in warzones.
But Yasmine Nahlawi, advocacy and policy coordinator for Rethink Rebuild Society, a charity representing the Syrian community in Greater Manchester, said she had not heard of a group from Rochdale heading out recently to carry out humanitarian aid in Syria.
She said: "Those who want to help the Syrian people can do so by donating to registered charities that have established and verifiable links to groups in need," adding that Rethink Rebuild Society maintains a list of such groups. "We do not recommend that people travel to Syria given the increasing complexity of the conflict. With that said, we hope that this incident will not place undue scrutiny upon humanitarian aid work carried out in Syria."