MP says 'tyranny of political correctness' stops debate on Islam and extremism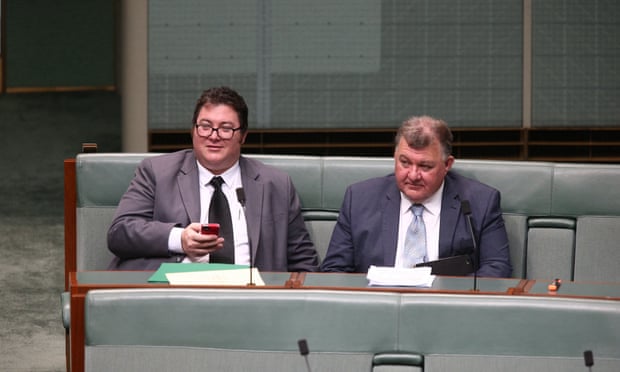 The "tyranny of political correctness" is preventing a frank conversation about the role of Islam in extremism, Liberal backbencher Craig Kelly has said, as conservative members of the Coalition strengthen their rhetoric on anti-radicalisation.
Kelly was speaking to a motion put by LNP backbencher George Christensen, which called for action against radical Islam in Australia.
"These terror plots that have recently been in our country have all had one thread in common, and they have been undertaken in the name and a radical interpretation of Islam," Kelly told the House of Representatives on Monday. "If we are to have this debate … we must do it without it being bogged down and censored by the tyranny of political correctness."
Kelly called for a tightening of Australia's immigration policies.
"If we continue on the current path we are going, we know what the future is," he said. "The future is what we see in Brussels."
He quoted a Canadian conservative commentator, saying: "The barbarians are inside and there are no gates".
A number of MPs from the conservative ranks of the Coalition have linked Islam with extremism in Australia.
Related: Why do Islamist groups in particular seem so much more sadistic, even evil? | Kenan Malik
On Sunday the resources minister, Josh Frydenberg, told Sky News that Australia's Islamic community must admit that it has a "small but significant" problem with extremists in its midst. Frydenberg criticised the grand mufti, Ibrahim Abu Mohammed, for his "graphic failure in leadership" following this month's Paris attacks.
A number of MPs followed suit on Monday.
"Modern Islam needs to cohere with the Australian way of life, our values and institutions. In so far as it doesn't, it needs reform,'' newly-elected Liberal backbencher Andrew Hastie told the Herald Sun.
Tasmanian backbencher Andrew Nikolic told the Australian newspaper that Islamic State had "hijacked" Islam for its own purposes.
"I think the grand mufti failed in that role with his initial response … when religious motivation for these attacks is very strong," he said.
The immigration minister, Peter Dutton, also told the Australian that more moderate Muslim leaders should have spoken out after the Paris attacks.
"If we are serious about dealing with the problem of Islamic extremism, both for the entire Australian community and the Muslim community in particular, we have to be honest and straightforward in what we say on the terrorist problem the world is facing," Dutton said. "Whether some misinterpret Islam to justify extremism and terrorism or deliberately use it to cover their criminal intentions and actions, they must be called out and confronted."
Related: Muslim community split in response to violence committed in name of Islam
The rhetoric is a marked departure from the language used by the prime minister, Malcolm Turnbull, who highlighted the need for "mutual respect" in one of his first major speeches after winning the leadership.
"Those people who decide that the response to the extremism of a very small minority is to vilify all Muslims are absolutely acting in a thoroughly counterproductive way. That is the most counterproductive thing you can do," Turnbull said in October.
The treasurer, Scott Morrison, dismissed concerns that Frydenberg's comments had undermined social cohesion.
"No, I don't think that's what he did," he told reporters on Monday. "What doesn't help is those sorts of characterisations of what he said."
"The best thing we can do is continue to strive to further improve the great cohesiveness we have as a society. This is our greatest defence against extremism," Morrison said.
He said that components of religion become more "indigenised" after existing in Australia for a while.
"I think all religions go through phases in this country," he said.
Earlier on Monday, Morrison told Macquarie Radio that people "should not tar the whole [Muslim] community with one brush".
"We need to work closely with the community to ensure that we have the best advantages for our security agencies," he said.
Labor was critical of the language used by government MPs and the effect it has on Australian Muslims.
"If Islam is the problem, when was the last time they visited a mosque in their community? What was it that they saw or heard that threatened our society," Labor MP Tim Watts asked in response to the Christensen motion.
A number of Coalition MPs interjected during Watts's speech, calling him an "appeaser".
"This is an important national security issue that is being hijacked by irresponsible, ignorant members of a minority group within the Coalition," Watts said. "It's about time it stopped."
Christensen, the author of the motion, has been criticised for speaking against the "radical Islam threat" at a Reclaim Australia rally in July.