Mohamed Abrini admits to being 'man in the hat' at Brussels airport
The 31-year-old, also thought to have been involved in Paris attacks, made confession following arrest on Friday
Mohamed Abrini was held in raids in connection with Paris and Brussels attacks. Photograph: AFP/Getty Images
Chris Johnston and agencies in Brussels
After nearly three weeks of frantic searching, Belgian authorities have announced they have finally arrested and identified the elusive "man in the hat" spotted alongside two suicide bombers who blew themselves up at Brussels airport on 22 March.
In a statement on Saturday evening, Belgian prosecutors said Mohamed Abrini, 31, the last identified suspect at large from the Paris attacks on 13 November, had confessed to being the vest- and hat-wearing man whose video image had been widely circulated by authorities.
"After being confronted with the results of the different expert examinations, he confessed his presence at the crime scene," the statement said.
The revelation that a Paris suspect escorted two of the Brussels bombers to their deaths at the city's Zaventem airport is among the strongest signs yet that the attackers who struck both cities killing a total of 162 people were intimately linked.
Abrini, who was arrested on Friday in a Brussels police raid, was one of four suspects charged on Saturday with "participating in terrorist acts" linked to the deadly Brussels suicide bombings that resulted in 32 deaths and 270 injuries at the airport and at the city's Maelbeek subway station.
The prosecutors' office said Abrini threw away his vest in a rubbish bin and sold his hat after the bombings.
Authorities had been frantically seeking the "man in the hat" since he was filmed alongside the two bombers just before the airport attack. Belgian authorities recently released more footage of the man leaving the airport in the wake of the bombings, walking down streets and past a hotel.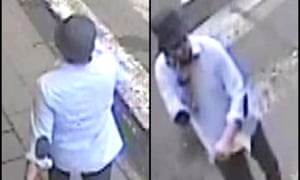 Security footage of the third suspect from the Brussels airport attack – known as the 'man in the hat'. Photograph: Handout/AFP/Getty Images
The other three men charged were Herve BM, a Rwandan national; Bilal EM, 27; and Osama K, reported to be a Swede whose full name is Osama Krayem. Prosecutors said they identified Osama K as the man present at the time of the metro attack.
All four men were charged with participating in "terrorist murders" and the "activities of a terrorist group". Two other suspects arrested on Friday have been released.
Abrini had been on Europe's most wanted list since being identified as one of two suspects seen on CCTV travelling by car to Paris two days before the attacks on the French capital in November.
However, he disappeared before 130 people were killed in coordinated assaults at the national stadium, bars, restaurants and the Bataclan concert hall.
Abrini, who has Belgian and Moroccan nationality, grew up in Brussels and has a history of petty crime. His younger brother died in Syria in 2014 after joining Islamic State. Abrini is believed to have travelled to Syria last summer.