France attack: Man decapitated in attack near Lyon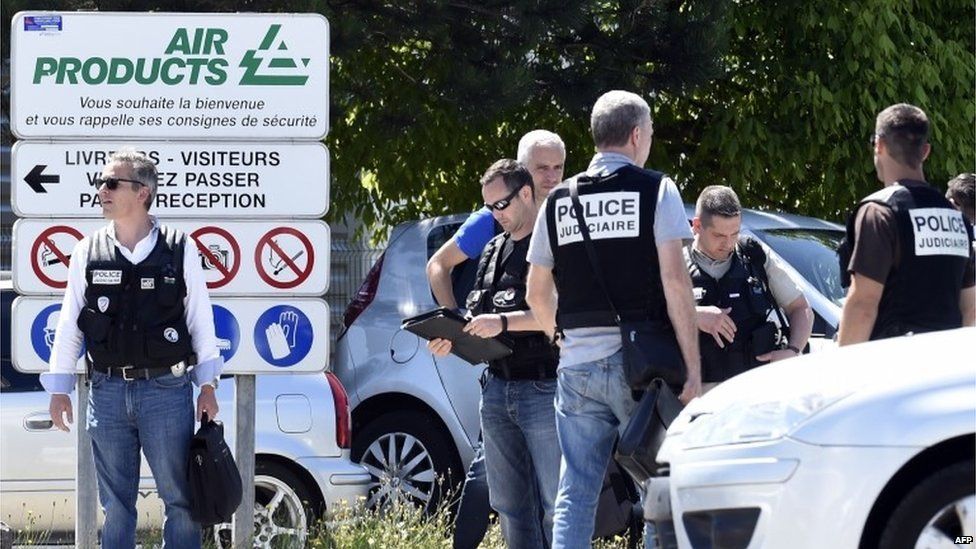 The site belongs to Air Products, a US-based firm
France has begun a terror investigation after a decapitated body was found at the scene of a suspected Islamist attack on a US-owned gas factory near the south-eastern city of Lyon.
One arrested man suspected to have rammed a car into the factory had been investigated over possible ties to Islamist radicals, officials said.
President Francois Hollande said the aim was to blow up the factory.
Officials say the decapitated person was a local businessman.
His head was found on a post at the gates to the Air Products gas factory in Saint-Quentin-Fallavier, some 40km (25 miles) from Lyon.
Mr Hollande said the decapitated body had "inscriptions" on it. The French interior minister said: "A flag with Arabic writing on it was found at the scene".
No further details have been released of the circumstances around the businessman's death.
Live updates: France beheading attack
At a press conference, Mr Hollande confirmed that two attackers had targeted the chemicals factory at around 10:00 local time (08:00 GMT).
He said a car made it through the factory gates before ploughing into gas canisters, sparking an explosion that injured two people.
"We have no doubt that the attack was to blow up the building. It bears the hallmarks of a terrorist attack," he said.
There is a heavy police presence outside the factory in Saint-Quentin-Fallavier Forensics experts are gathering evidence from the scene A number of suspects are reported to be in custody A woman and child, believed to have links to one of the suspects, is led from a house in the Lyon suburb of Saint-Priest Air Products makes gases for a number of industries, including food production and medicine
Speaking from the scene, France's Interior Minister Bernard Cazeneuve said a number of people were in custody over the attack, including a 35-year-old man named as Yacine Sali.
Mr Sali, he said, had been "under investigation for radicalisation but this investigation was not renewed in 2008. He had no police record."
The suspect's partner spoke to Europe 1 earlier on Friday and said he had left for his delivery job as normal and did not come home. She has since been taken into custody.
Another suspect who is believed to have been driving back and forth past the factory before the attack has also been arrested, local media report.
Air Products makes gases and chemicals for a wide range of industries, including technology, energy, healthcare, food. It is based in the US, but has more than 20,000 employees in 50 countries around the world.
"We can confirm that an incident occurred at our facility in L'Isle-d'Abeau, France this morning," a company spokesperson said.
"Our priority at this stage is to take care of our employees, who have been evacuated from the site and all accounted for."
French Prime Minister Manuel Valls has ordered that security be stepped up at sensitive sites around Lyon.
Mr Hollande, who left the EU summit in Brussels early to return to France, promised "action, prevention and dissuasion" to stop any more terrorist attacks.
"We all remember what happened before in our country. There is therefore a lot of emotion," he said referring to the attacks on Charlie Hebdo magazine and a Jewish supermarket in and around Paris in January that killed 17 people.